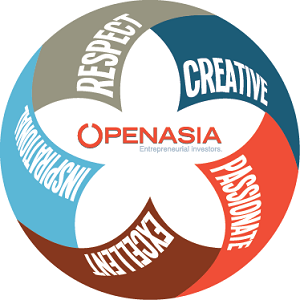 Openasia is known for a corporate culture that brings all employees together to explore ideas, get inspiration and achieve excellence. This cultural condition is responsible for the company's capacity to seek multi-functional employees who work with devotion and endless creativeness.
Respect for people
For years, "Respect for people" has been the core element of Openasia's corporate philosophy. We consider all employees members of a big family. We acknowledge and respect differences in each other, and provide a safe, supportive environment in which all employees are valued, and encouraged to engage in open two-way communication.
Creativity
Employees are fountains of new ideas, fueling better products, services and processes. Openasia pools a diverse set of perspectives and experience by assembling cross-functional teams to collaborate on projects. The company often holds brainstorming sessions around new themes and goals. Employees don't take themselves too seriously, and use their imagination to drive innovation.
Passion
We are passionate about our business, our brands and our products. Passion is an internal motivator, an energy that comes from within. It keeps us up late learning the newest technology, delighting our customers, implementing creative and innovative ideas and solutions and fiercely protecting our reputation.
Excellence
We will persistently create better ways of doing the things we do. We will not rest on our accomplishments, but will rather build on them in our personal and professional journey to be the best we can be and set the standard in service delivery, through a commitment to excellence, innovation, ongoing learning and continuous improvement.
Inspiration
We encourage, cultivate and celebrate inspiration to make people never forget us. We inspire each other in our company. We inspire our clients. We inspire our community. We love our work and we want to share our enthusiasm to others.